March 30, 2014 at 8:49 am
#915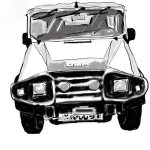 Anonymous
Guest
And all mine,
Clutch stuck, brakes very poor, won't start on the key but goes with a tow, solenoid heard to operate so until I can get a day spare I'm assuming the battery is goosed. Big lump missing from the exhaust, would it have had a cat? Vitrually no rot and some strange framework on the under side that I presume was a mounting for a jib/specs lift.
More pictures to follow when my membership is completed.
Oh and, Greetings from Huntingdon, soon to be new member here!!!
Simon
Quote:
Quote from fritz on March 15, 2014, 13:23
Seen this for sale via eBay…
I am certain that I saw it for sale on ebay 3 years ago too (I tried to buy it then but it had already sold!), it was a tow vehicle for a garage around reading somewhere at the time, they had had it from new.
http://www.ebay.co.uk/itm/Umm-4×4-Pick-Up-Off-Road-or-Park-Vehicle-/231179667129?pt=Automobiles_UK&hash=item35d361c6b9
No Tax
No MOT
Low Mileage for age
Runs and Drives well
Manual only one service history stamp 1994
Any inspection Welcome
Buy It Now £1,000 or Best Offer
Phone Paul 07831 275758
[img]http://www.umm-world.com/wordpress/wp-content/uploads/2014/03/w36x0-58.JPG[/img]
[img]http://www.umm-world.com/wordpress/wp-content/uploads/2014/03/579k1-58-1.JPG[/img]
[img]http://www.umm-world.com/wordpress/wp-content/uploads/2014/03/o276q-58-3.JPG[/img]